Lezcuties Inna and Monchi's secret affair
Enjoy free lezcuties preview - Inna and Monchi's secret affair! Every girl envies Inna and Monchi since there are so pretty and the boys all want to get with them. But no one knows their biggest secret - that next to all those boys only one thing is better and that is sex with each other! These cute girls know that a girl knows exactly where to touch and lick and pet... and the boys only fumble around. Watch their secret affair unfold here!
Inna and Monchi's secret affair Video Trailer
Inna and Monchi's secret affair Sample Pictures
More Free Lez Cuties Scenes
I have this friend, Marisol. She is nice and cute, but she is just so innocent! Sometimes she tells me she envies me for being so experienced. I told her we could help it, and that I would love to ini…
Sometimes these girls cannot control their excitement and use the weirdest object during their tongue fights and pussy licking frenzies. This time Leona and Niki jump into some extreme plays...…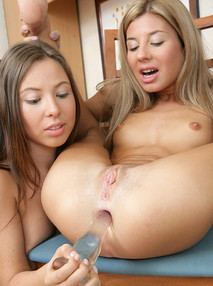 Sweet little Anne was supposed to do her home assignment but it was so fucking boring that she found herself daydreaming about nasty sexy things. After a while sha had enough of this state and got her…
At LezCuties.com we have sloppy French kissing, lesbian threesomes, double penetration, rough anal fingering and dildoing, wet ass licking, pussy eating, fingerfucking, nipple munching, 69s, extreme objects, fistings and pissing. And we innocent-looking naughty teen cuties are your entertainers! :)
Explore the 21 Sextury Network
This site is just one from this porn bonanza all-in-one mega-network that gives you instant access to 30 sites when you join. If you stick around past the first 30 days, another 10 become accessible and the price goes down, finally, after 60 days, you get 10 more and the price goes down one more time.